A new generation of circular-economy-focused companies have already recognized that there is no advantage in waiting for international agreements. Rather, it is in the direct interest of everyone, including their company, to step up and protect its own ability to operate in the future.
Circular companies operate while also reducing overshoot. Expanding such companies, means global overshoot goes down. They symbolize the Power of Possibility
Construction: Over 6 billion tons of waste from torn-down buildings are produced every year worldwide. Eberhard, a Swiss construction company, opened 10 months ago the first plant in Europe to recover mixed construction waste and turn it into new, high-quality circular secondary raw material. One application is a low-carbon, circular concrete that is largely composed of recycled materials (zirkulit®). If only such concrete were used worldwide instead of conventional one, Earth Overshoot Day would move by 2.4 days. More on Eberhard.
Water treatment: All life requires clean water. To enable safe use and reuse of water, Aqseptence Group provides specialized products and solutions for municipalities and industries to filter, separate and treat water. As a priority they contribute to the preservation of our planet by reducing CO2 footprints and conserving natural resources in all their applications. More on Aqseptence.
Waste recycling: by closing logistics cycles, and providing sorting and recycling of large waste streams, including plastics, Interzero reduces society's dependence on virgin resources. Interzero's engineers with Global Footprint Network's researchers calculated that for every Euro value add the company generates, global overshoot shrinks by over 28 global square meters. This contrasts starkly with the 2.6 global square meters of overshoot added for every Euro generated by the global economy. That means, per Euro Interzero gives back 10 times more to our planet than the global economy takes. Without Interzero, the world's Earth Overshoot Day would be 4 minutes and 20 seconds earlier – measurable on a global scale. More on Interzero.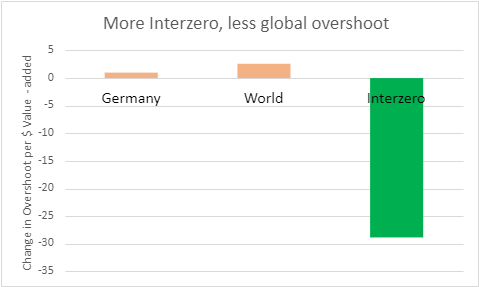 Figure 1: Change in global Overshoot per annual dollar value add for Germany, the world, and Interzero (in global square meters). This means for every dollar the world adds to GDP, overshoot increases 2.6 global square meters. For every dollar this company adds to GDP, it decreases global overshoot by over 28 global square meters.
Companies who can produce valuable goods and services while also reducing global overshoot are naturally better positioned for the predictable future. The likelihood that such businesses will be needed, and that they therefore remain valuable, is higher than for those businesses who ignore those global trends.
Circular economy is no longer fringe
Some help to create or build products and goods with their end-of-life taken into account and making sure that these things or their components and raw materials by the end of their life, go back into supply chains – to be reused as similar or totally different products. According to the German association BDE, in 2020, 310,000 qualified and motivated employees worked in almost 11,000 municipal and private companies at all levels of value creation and generated in Germany sales of around €85 billion and gross value added of around €28 billion.
Others produce and goods that help to reduces natural resource use on a large scale like windmills, solar and thermal energy plants, or water cleaning components. According to the Federal Ministry for the Environment and Consumer Protection in Germany, in 2020, the market volume of German environmental technology was 392 billion euros.
Economic systems must change to circular economies
Both markets expect a strong increase. Whether this development will outperform the still increasing consumption of the renewed resources depends on various factors. But companies that can produce valuable goods and services while reducing overshoot are also more likely to be able to operate in the predictable future. They are attractive employers with a high purpose and interesting work tasks at all levels. Therefore, they likely will maintain if not gain in value also in challenging times.