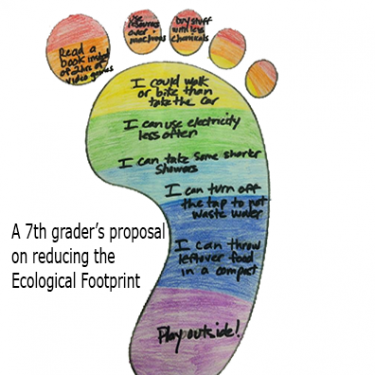 Footprint Calculator: Measure your own Ecological Footprint with an online Footprint calculator (desktop computer required, available in several languages). The calculator tells you how many Earths would be required if everyone on the planet lived like you, and then suggests ways to reduce your Ecological Footprint. footprintcalculator.org
Footprint Drawing: Suggest ways to reduce your Ecological Footprint in a drawing like the one by the seventh grader at left.
Footprint Futures: Global Footprint Network's university-level curriculum. footprintnetwork.org/ff
Trashy Stationary: Don't trash your trash, when you can recycle it into beautiful cards and stationery! discoverykids.com/activities/trashy-stationery
Tasty Leftovers: Create a sandwich with leftovers. If you are in Italy, take a picture and win: foodrightnow.it/la-tua-ricetta-contro-lo-spreco
Staycation: Convince your parents to take a "staycation," or just camp in your backyard. Invite your friends for a sleepover under the stars. discoverykids.com/articles/your-guide-to-a-backyard-camping-adventure
Create your own activity: Email us at socialmedia@footprintnetwork.org to tell us what you will do about your Ecological Footprint.
A hands-on, inquiry-based, curriculum for year 9 or year 10 students on global warming and renewable energy from the Australian Academy of Technological Sciences and Engineering.
German website on nature and the environment for children from Bundesministerium für Umwelt, Naturschutz, Bau und Reaktorsicherheit (BMUB).
Weekly teaching lessons (in German) on timely environmental topics from BMUB.
Downloadable classroom materials (in German) on environmental topics, including biodiversity, renewable energy, and climate change, from BMUB.
Terracycle curriculum lesson sets from The Cloud Institute for Sustainability Education