COVID-19 IMPACT

We have received many inquiries about the coronavirus pandemic's impact on each country's Ecological Footprint and Overshoot Day. It is too challenging to tell with a reasonable degree of confidence as events are still unfolding rather unpredictably and data on these significant changes are still being collected. For more information on how to "now-cast" countries' Ecological Footprints to the present, see the box on the right.
A country's overshoot day is the date on which Earth Overshoot Day would fall if all of humanity consumed like the people in this country.
We determine the country overshoot days in 2021 using the 2021 edition of the National Footprint and Biocapacity Accounts, which features Ecological Footprint and biocapacity data from 1961 to the latest data-year of 2017. Typically, there is a three to four-year lag between the latest data-year and the present due to the UN's reporting process.
Let's take Switzerland's 2021 overshoot day, for example, using the 2021 edition (with data for 2017):
The Ecological Footprint for Switzerland is 4.47 gha per person (in 2017)
Global biocapacity is 1.6 gha per person (in 2017)
Therefore, it would take (4.47/ 1.6) = 2.79 Earths if everyone lived like the Swiss,
OR
we can determine Switzerland's overshoot day as 365 * (1.6/4.47) = 131th day in the year. The 131th day of 2021 is the 11th of May, Switzerland's Overshoot Day.
Not all countries will have an overshoot day. By way of the country overshoot equation above, a country will only have an overshoot day if their Ecological Footprint per person is greater than global biocapacity per person (1.63 gha). Countries whose Ecological Footprint per person are less than global biocapacity per person (1.63 gha) and do not have an overshoot day are therefore not included in our list below. In leap years, we compare the date against 366 days of the year, rather than the usual 365.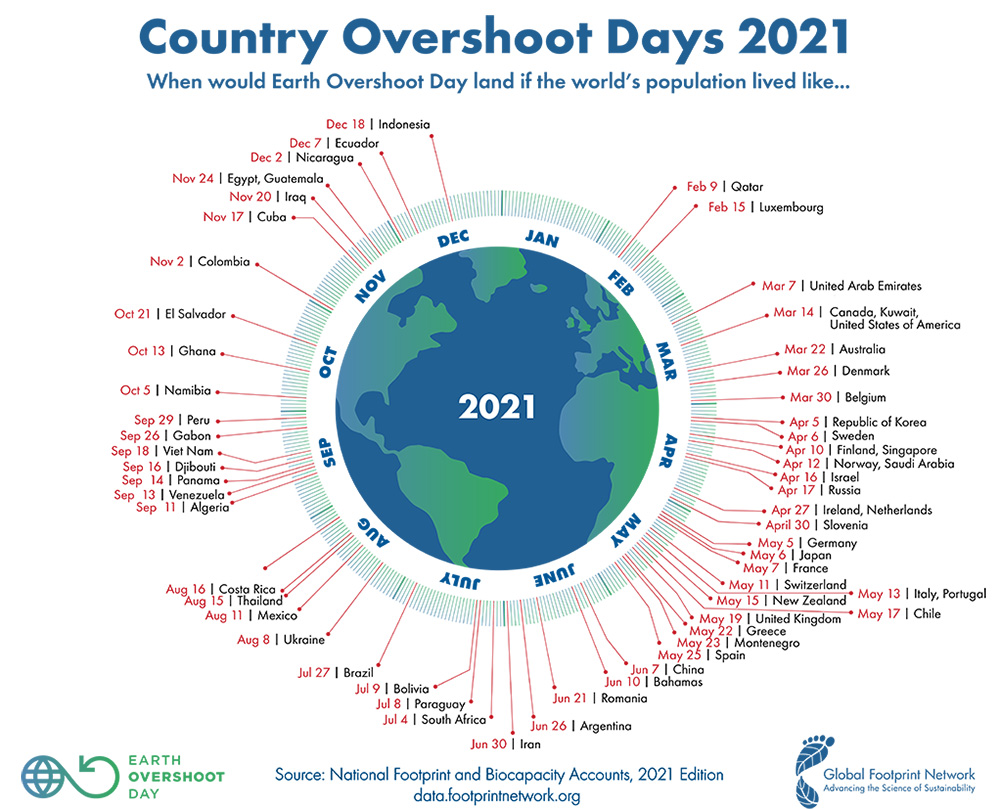 Now-Casting Country Footprints
Estimating today's Ecological Footprint of a country, which is called "now-casting," can be useful for policy analysts and decision-makers. This is done by integrating the more recent UN data and applying updated data points from other sources. Now-casts can provide a business-as-usual estimate based on a combination of historic trends and recent data, but are not biophysical accounts based on reported data, and therefore must be treated with the same caution as a forecasting model. We undertake projects for which this approach is appropriate through partnerships, as we did for WWF France in 2018. Please reach out to us if you are interested in commissioning such an analysis. Typically, the assessment takes a few weeks.
All countries are not represented in the infographic. The table below provides a more complete list of country overshoot days:
Dive into your country's Ecological Footprint and biocapacity data at data.footprintnetwork.org.
| Country | Overshoot Day |
| --- | --- |
| Qatar | February 9, 2021 |
| Luxembourg | February 15, 2021 |
| United Arab Emirates | March 7, 2021 |
| Bahrain | March 9, 2021 |
| Trinidad and Tobago | March 12, 2021 |
| Canada | March 14, 2021 |
| Mongolia | March 14, 2021 |
| United States of America | March 14, 2021 |
| Kuwait | March 14, 2021 |
| Bermuda | March 14, 2021 |
| Oman | March 22, 2021 |
| Australia | March 22, 2021 |
| Estonia | March 23, 2021 |
| Denmark | March 26, 2021 |
| Aruba | March 29, 2021 |
| Belgium | March 30, 2021 |
| Korea, Republic of | April 5, 2021 |
| Latvia | April 6, 2021 |
| Sweden | April 6, 2021 |
| Austria | April 7, 2021 |
| Brunei Darussalam | April 8, 2021 |
| Kazakhstan | April 8, 2021 |
| Singapore | April 10, 2021 |
| Lithuania | April 10, 2021 |
| Cayman Islands | April 10, 2021 |
| Finland | April 10, 2021 |
| Norway | April 12, 2021 |
| Saudi Arabia | April 12, 2021 |
| Malta | April 13, 2021 |
| Israel | April 16, 2021 |
| Russian Federation | April 17, 2021 |
| Czech Republic | April 17, 2021 |
| Turkmenistan | April 22, 2021 |
| Netherlands | April 27, 2021 |
| Ireland | April 27, 2021 |
| Slovenia | April 30, 2021 |
| Poland | May 4, 2021 |
| Germany | May 5, 2021 |
| Réunion | May 5, 2021 |
| Japan | May 6, 2021 |
| France | May 7, 2021 |
| Switzerland | May 11, 2021 |
| Montserrat | May 11, 2021 |
| Slovakia | May 13, 2021 |
| Italy | May 13, 2021 |
| Portugal | May 13, 2021 |
| Bhutan | May 14, 2021 |
| New Zealand | May 15, 2021 |
| Martinique | May 16, 2021 |
| Chile | May 17, 2021 |
| Antigua and Barbuda | May 17, 2021 |
| Belarus | May 19, 2021 |
| United Kingdom | May 19, 2021 |
| Greece | May 22, 2021 |
| Montenegro | May 23, 2021 |
| Guadeloupe | May 25, 2021 |
| Spain | May 25, 2021 |
| Malaysia | May 30, 2021 |
| Cyprus | May 31, 2021 |
| French Polynesia | June 1, 2021 |
| Barbados | June 6, 2021 |
| Croatia | June 6, 2021 |
| China | June 7, 2021 |
| Hungary | June 8, 2021 |
| Bulgaria | June 10, 2021 |
| Bahamas | June 10, 2021 |
| Turkey | June 16, 2021 |
| Bosnia and Herzegovina | June 17, 2021 |
| Libyan Arab Jamahiriya | June 18, 2021 |
| British Virgin Islands | June 19, 2021 |
| Romania | June 21, 2021 |
| Lebanon | June 25, 2021 |
| Argentina | June 26, 2021 |
| Tonga | June 30, 2021 |
| Iran, Islamic Republic of | June 30, 2021 |
| South Africa | July 4, 2021 |
| Paraguay | July 8, 2021 |
| Bolivia | July 9, 2021 |
| Guyana | July 10, 2021 |
| Mauritius | July 10, 2021 |
| Republic of North Macedonia | July 10, 2021 |
| Brazil | July 27, 2021 |
| Fiji | July 27, 2021 |
| Suriname | July 31, 2021 |
| Grenada | July 31, 2021 |
| Serbia | July 31, 2021 |
| Botswana | August 1, 2021 |
| Ukraine | August 8, 2021 |
| Mexico | August 11, 2021 |
| Thailand | August 15, 2021 |
| Costa Rica | August 16, 2021 |
| Samoa | August 20, 2021 |
| Saint Lucia | August 22, 2021 |
| French Guiana | September 8, 2021 |
| Mauritania | September 10, 2021 |
| Algeria | September 11, 2021 |
| Dominica | September 12, 2021 |
| Venezuela, Bolivarian Republic of | September 13, 2021 |
| Panama | September 14, 2021 |
| Djibouti | September 16, 2021 |
| Viet Nam | September 18, 2021 |
| Georgia | September 25, 2021 |
| Gabon | September 26, 2021 |
| Tunisia | September 28, 2021 |
| Peru | September 29, 2021 |
| Namibia | October 5, 2021 |
| Albania | October 12, 2021 |
| Ghana | October 13, 2021 |
| Lao People's Democratic Republic | October 20, 2021 |
| Uzbekistan | October 20, 2021 |
| El Salvador | October 21, 2021 |
| Azerbaijan | October 23, 2021 |
| Jordan | October 30, 2021 |
| Colombia | November 2, 2021 |
| Eswatini | November 6, 2021 |
| Republic of Moldova | November 9, 2021 |
| Papua New Guinea | November 16, 2021 |
| Cuba | November 17, 2021 |
| Jamaica | November 19, 2021 |
| Iraq | November 20, 2021 |
| Equatorial Guinea | November 20, 2021 |
| Armenia | November 21, 2021 |
| Guatemala | November 24, 2021 |
| Egypt | November 24, 2021 |
| Morocco | November 26, 2021 |
| Dominican Republic | November 29, 2021 |
| Nicaragua | December 2, 2021 |
| Cabo Verde | December 6, 2021 |
| Ecuador | December 7, 2021 |
| Myanmar | December 8, 2021 |
| Guinea | December 14, 2021 |
| Chad | December 16, 2021 |
| Indonesia | December 18, 2021 |
| Sao Tome and Principe | December 27, 2021 |