A country's overshoot day is the date on which Earth Overshoot Day would fall if all of humanity consumed like the people in this country.
To calculate a country's Overshoot Day, we use the latest data available from the National Footprint and Biocapacity Accounts. The 2019 edition features data from 2016, as data is reported to the United Nations with some time delay.
Let's take Switzerland, for example, using the latest data available (for 2016):
The Ecological Footprint for Switzerland is 4.64 gha per person (in 2016)
Global biocapacity is 1.63 gha per person (in 2016)
Therefore, it would take (4.64/ 1.63) = 2.8 Earths if everyone lived like the Swiss,
OR
we can determine Switzerland's overshoot day as 365 * (1.63/ 4.64) = 128th day in the year. The 128th day is the 9th of May, Switzerland's Overshoot Day (in 2016).
Not all countries will have an overshoot day. By way of the country overshoot equation above, a country will only have an overshoot day if their Ecological Footprint per person is greater than global biocapacity (1.63 gha). Countries whose Ecological Footprint per person are less than global biocapacity (1.63 gha) do not have an overshoot day and are therefore not included in our list below. In leap years, we compare the date against 366 days of the year.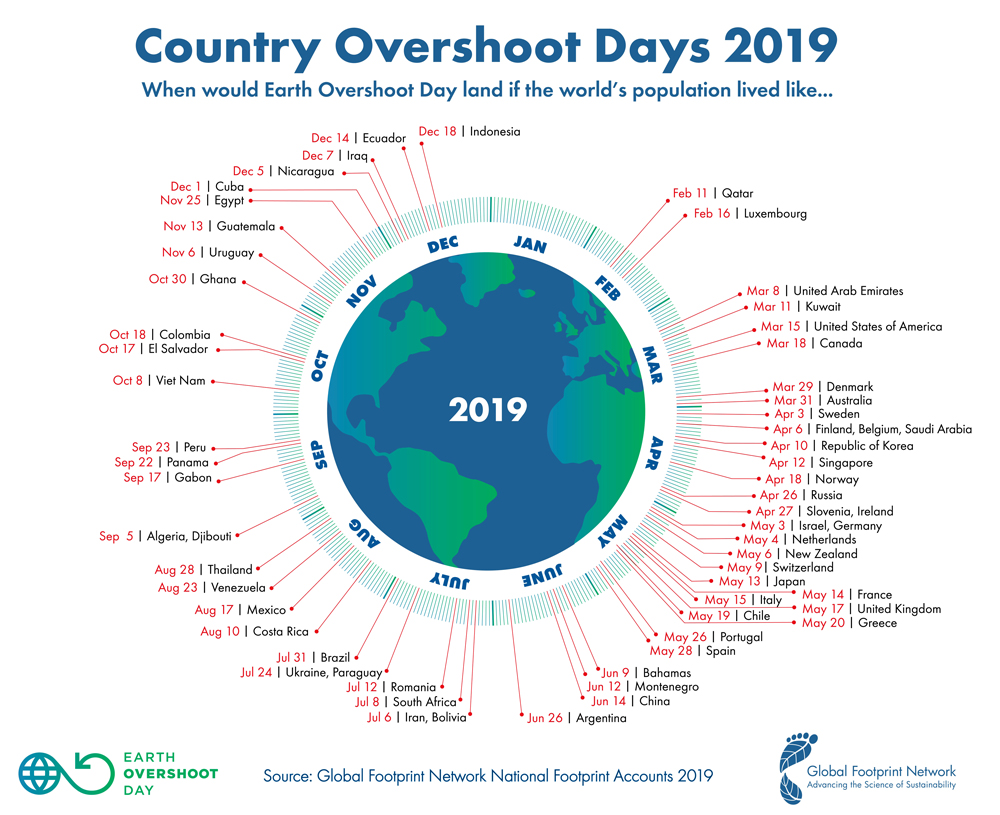 All countries are not represented in the infographic. The table below provides a more complete list of country overshoot days:
Dive into your country's Ecological Footprint and biocapacity data at data.footprintnetwork.org.
| Country | Overshoot Day |
| --- | --- |
| Qatar | 11-Feb |
| Luxembourg | 16-Feb |
| United Arab Emirates | 8-Mar |
| Bahrain | 10-Mar |
| Kuwait | 11-Mar |
| Trinidad and Tobago | 13-Mar |
| United States of America | 15-Mar |
| Canada | 18-Mar |
| Mongolia | 19-Mar |
| Bermuda | 21-Mar |
| Estonia | 26-Mar |
| Denmark | 29-Mar |
| Oman | 29-Mar |
| Australia | 31-Mar |
| Aruba | 2-Apr |
| Sweden | 3-Apr |
| Latvia | 4-Apr |
| Finland | 6-Apr |
| Belgium | 6-Apr |
| Saudi Arabia | 6-Apr |
| Austria | 9-Apr |
| Korea, Republic of | 10-Apr |
| Singapore | 12-Apr |
| Cayman Islands | 13-Apr |
| Malta | 13-Apr |
| Czech Republic | 17-Apr |
| Lithuania | 17-Apr |
| Kazakhstan | 18-Apr |
| Norway | 18-Apr |
| Belize | 22-Apr |
| Turkmenistan | 22-Apr |
| Russia | 26-Apr |
| Slovenia | 27-Apr |
| Ireland | 27-Apr |
| Cook Islands | 28-Apr |
| Israel | 3-May |
| Germany | 3-May |
| Netherlands | 4-May |
| New Zealand | 6-May |
| Réunion | 9-May |
| Switzerland | 9-May |
| Montserrat | 13-May |
| Japan | 13-May |
| Bhutan | 13-May |
| France | 14-May |
| Italy | 15-May |
| Poland | 15-May |
| Martinique | 15-May |
| United Kingdom | 17-May |
| Antigua and Barbuda | 18-May |
| Chile | 19-May |
| Greece | 20-May |
| Brunei Darussalam | 21-May |
| Slovakia | 22-May |
| Guadeloupe | 25-May |
| Portugal | 26-May |
| French Polynesia | 27-May |
| Spain | 28-May |
| Belarus | 30-May |
| Croatia | 1-Jun |
| Malaysia | 1-Jun |
| Barbados | 6-Jun |
| Cyprus | 8-Jun |
| Bahamas | 9-Jun |
| Libya | 9-Jun |
| Bosnia and Herzegovina | 10-Jun |
| Montenegro | 12-Jun |
| China | 14-Jun |
| Hungary | 14-Jun |
| Mauritius | 18-Jun |
| Bulgaria | 22-Jun |
| Tonga | 25-Jun |
| Guyana | 25-Jun |
| Argentina | 26-Jun |
| Turkey | 27-Jun |
| Lebanon | 30-Jun |
| Iran | 6-Jul |
| Bolivia | 6-Jul |
| South Africa | 8-Jul |
| Fiji | 9-Jul |
| Romania | 12-Jul |
| Serbia | 18-Jul |
| Suriname | 20-Jul |
| Samoa | 20-Jul |
| Grenada | 22-Jul |
| Macedonia TFYR | 23-Jul |
| Ukraine | 24-Jul |
| Paraguay | 24-Jul |
| Brazil | 31-Jul |
| Botswana | 7-Aug |
| Costa Rica | 10-Aug |
| Namibia | 13-Aug |
| Mexico | 17-Aug |
| Venezuela | 23-Aug |
| Thailand | 28-Aug |
| Solomon Islands | 3-Sep |
| Algeria | 5-Sep |
| Djibouti | 5-Sep |
| French Guiana | 8-Sep |
| Dominica | 10-Sep |
| Saint Lucia | 13-Sep |
| Mauritania | 14-Sep |
| Gabon | 17-Sep |
| Panama | 22-Sep |
| Peru | 23-Sep |
| Tunisia | 29-Sep |
| Viet Nam | 8-Oct |
| Georgia | 8-Oct |
| Azerbaijan | 13-Oct |
| Jordan | 14-Oct |
| El Salvador | 17-Oct |
| Colombia | 18-Oct |
| Albania | 24-Oct |
| Ghana | 30-Oct |
| Armenia | 4-Nov |
| Uzbekistan | 6-Nov |
| Uruguay | 6-Nov |
| Laos | 9-Nov |
| Guatemala | 13-Nov |
| Equatorial Guinea | 14-Nov |
| Eswatini | 17-Nov |
| Egypt | 25-Nov |
| Cuba | 1-Dec |
| Nicaragua | 5-Dec |
| Papua New Guinea | 7-Dec |
| Iraq | 7-Dec |
| Moldova | 8-Dec |
| Sao Tome and Principe | 12-Dec |
| Dominican Republic | 12-Dec |
| Ecuador | 14-Dec |
| Morocco | 16-Dec |
| Indonesia | 18-Dec |
| Niger | 25-Dec |
| Myanmar | 25-Dec |
| Kyrgyzstan | 26-Dec |