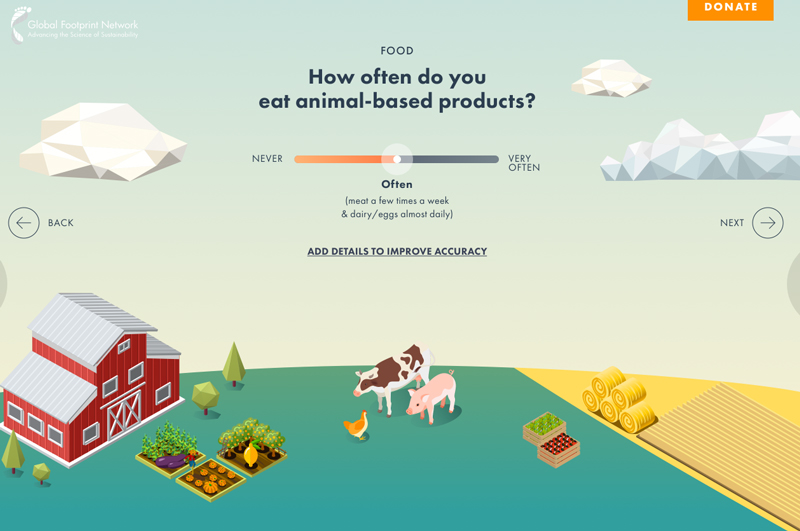 (Preview of new calculator design)
LEARN
The Ecological Footprint enables us—individuals, cities, nations—to measure our individual and collective impact and take positive action. No other metric exists in the world that can compare how much nature we consume to what our planet's ecosystems can renew.
Global Footprint Network relies on YOU to help us accomplish our vital Footprinting work. We need your donation now to reboot one of our most important information and action tools—the Ecological Footprint Calculator—so that millions more people can measure their impact on our planet and take action.
ACT
Donate at www.footprintnetwork.org/donate. The cost of the Ecological Footprint Calculator for 100 users averages $5—the cost of a cappuccino! Pay it forward ($10, $25, $50 or more) so collectively we can reach 10 million users with our new calculator launching soon, and together create one planet prosperity and a sustainable future.
PLEDGE
I support one planet prosperity by donating to Global Footprint Network for their exciting new Ecological Footprint Calculator (to be released by Earth Overshoot Day).
SHARE
Fulfill your pledge by asking your friends on social media to support educating students and citizens about sustainability, and invite them to donate!
CLICK A BUTTON BELOW TO MAKE YOUR PLEDGE!
[awc_social_pledge_summary image_override="http://www.overshootday.org/wp/wp-content/uploads/2017/07/calculator-sneak-peek-600-432.jpg"]
[awc_social_pledge_button category="donate" image_override="http://www.overshootday.org/wp/wp-content/uploads/2017/07/calculator-sneak-peek-600-432.jpg"]