Earth Overshoot Day Partner Events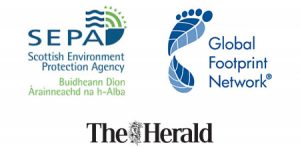 On 22nd August, the world marks Earth Overshoot Day – the day when humanity's demand for ecological resources and services in a given year exceeds what Earth can regenerate in that period. Over 80 countries marked Earth Overshoot Day last year, with more set to join the global call for action. This year sees a 9.3% reduction of humanity's Ecological Footprint and the date move more than three weeks later as a direct consequence of COVID-induced lockdowns around the world. But this sudden change is no long-term solution.
Now The Herald, in conjunction with the Scottish Environment Protection Agency (SEPA) and the California based Global Footprint Network, are teaming up with Scotland's most progressive business leaders, thinkers and young people as part of its 'Earth Overshoot Day' campaign. Join Herald Editor-in-Chief, Donald Martin, to look at the challenges and opportunities to #MoveTheDate, ask your questions and explore real opportunities to accelerate practical action to lock in sustainable, inclusive growth before the world's leaders arrive in Glasgow for the COP26 global climate summit in 2021. More Information

On the eve of Earth Overshoot Day, when we acknowledge that humanity uses more ecological resources than our planet can renew, the Museum of Tomorrow will present a live video show to discuss how we are affecting climate and how our collective actions can move the date of Earth Overshoot Day. The uncontrolled growth of human activities has had numerous impacts on the planet's climate and natural ecosystems, and the results can already be seen. More frequent storms, severe droughts in unexpected places, variations in the seasons. What are the paths available to us to combat the climate emergency? What transformations can help our human society improve resilience? As we seek ways to adapt to foreseeable changes ahead, the Museum of Tomorrow invites physicist and world-renown climate change expert Paulo Artaxo and economist Ana Toni, executive director of Instituto Clima e Sociedade (iCS) and founding partner of GIP (Public Interest Management). The debate will take place in Portuguese on the Museum's YouTube channel.