Earth Overshoot Day Events
Special exhibition: Shaping the future – How do we want to live?
ongoing through December 2020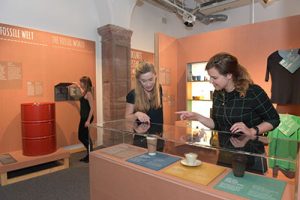 How will everyday life look in the year 2040? The exhibition presents three possible futures for a world that has resolved to largely forgo fossil-based raw materials. Instead biobased resources such as plants, animals and microorganisms are used. The opportunities and risks of such a system – a bioeconomy – are shown in the exhibition.
Let yourself be inspired and be part of the exhibition: submit climate-friendly recipes or personal tips for more sustainability in order to move the date of Earth Overshoot Day. The exhibition is still growing and will be shown until end of the year at the Senckenberg Natural History Museum Frankfurt.
How to build lasting business success on a finite planet
September 2, 2020 10 am EDT / 3 pm BST / 4 pm CET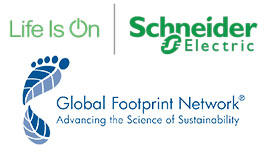 Reducing humanity's ecological footprint while simultaneously improving social well-being is obviously beneficial. This is also becoming true for companies, since those which offer products and services that enable humanity's long-term success build a long-term advantage into their business strategy. Those who do not risk obsolescence, as explained in a new e-book by Schneider Electric and Global Footprint Network.  In the webinar, Mathis Wackernagel, founder of Global Footprint Network, discussed with Esther Finidori and Amy Haddon from Schneider Electric how companies that prepare themselves for one-planet prosperity are better primed to attain and maintain a competitive advantage and resiliency. Register here to watch the recording.
Earth Overshoot Day Virtual Trivia Night
August 25, 2020 at 4:00 pm PST (GMT -7)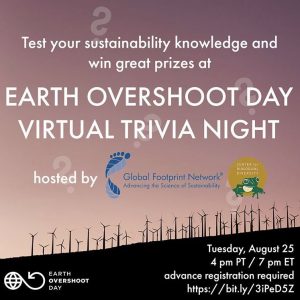 Test your sustainability knowledge and win great prizes! Global Footprint Network and the Center for Biological Diversity hosted the entertaining  #EarthOvershootDay Virtual Trivia Night! 
Scottish Parliament Event
August 24, 2020 at 6:00 pm CEST / 9:00 am PST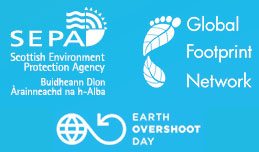 A conversation with representatives of all 5 Scottish parties to explore the business case for one-planet prosperity. More details on the participants area available here. They discussed options and aspirations for Scotland to #MoveTheDate. The recording is available here.
Global Articulation to Combat the Climate Emergency
August 21, 2020 at 5:00 pm BRT

The uncontrolled growth of human activities has had numerous impacts on the planet's climate and natural ecosystems. What transformations can help our human society improve resilience? As we seek ways to adapt to foreseeable changes ahead, the Museum of Tomorrow invites physicist and world-renown climate change expert Paulo Artaxo and economist Ana Toni, executive director of Instituto Clima e Sociedade (iCS) and founding partner of GIP (Public Interest Management).  The debate took place in Portuguese and is available here. It is part of the Museum's YouTube channel.
Viernes Por El Futuro Ecuador #diadelsobregiro
Viernes 21 de agosto 2020 18h00 (GMT -5)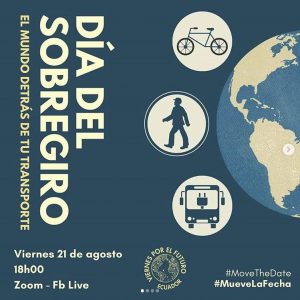 Movilízate de forma sostenible y #MueveLaFecha. Conversatorio el mundo detrás de tu transporte
Dia del Sobregiro de la Tierra 2020 Webinar
August 21, 2020 at 19:00 (GMT -4)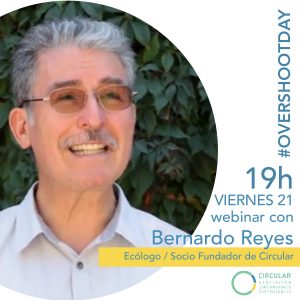 Este año por primera vez se retrasó el #diadelsobregirodelatierra (22/08/2020) a nivel planetario, moviendo la fecha 3 semanas con respecto al 2019 (29/07)…
Será sólo efecto del #covid_19 o será que hemos entendido y tomado acciones responsables para mover esta fecha? Porqué en Chile fue 18 de Mayo este año? Qué significa la huella ecológica y qué tiene que ver nuestro estilo de vida en ella?
Estas y otras preguntas eran las a resolver este viernes junto a nuestro invitado estelar, Bernardo Reyes, ecólogo y socio fundador de AdC Circular.
Bernardo es especialista en #huellaecológica, investigador, académico y activista, por lo que este año nuevamente, lo invitamos para reflexionar sobre este tema.
Global Launch: Choosing Our Future By Design, Not Disaster
August 20, 2020 at 7:00 pm CEST / 10:00 am PST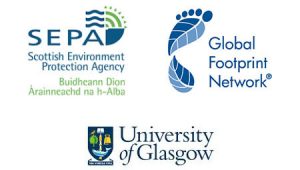 The Scottish Environment Protection Agency (SEPA), the University of Glasgow,  and Global Footprint Network launched Earth Overshoot Day by teaming up with Scotland's most progressive business leaders, thinkers and young people. Watch event recording
European Launch: Earth Overshoot Launch and Planetary Emergency
August 20, 2020 at 9:00 am CEST / 12:00 am PST

The challenge of relaunching our economies presents countries with a unique chance to act on the future we want. The Club of Rome and Global Footprint Network joined forces to mark Earth Overshoot Day with the launch of the Planetary Emergency Plan 2.0. This public combined live engagement with video messages from 'green champions' from the public and private sector from throughout Europe and made the case for 'building back better' post-COVID. Some argued for working until we have an "Earth Undershoot Day". Watch event recording
Earth Overshoot Preview: Choosing Our Future By Design, Not Disaster
August 6, 2020 at 6:00 pm BST / 10:00 am PST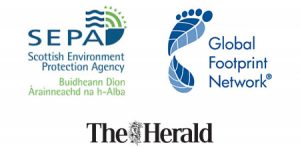 The Herald, in conjunction with the Scottish Environment Protection Agency (SEPA) and Global Footprint Network,  teamed up with Scotland's most progressive business leaders, thinkers and young people as part of its 'Earth Overshoot Day' campaign. Herald Editor-in-Chief, Donald Martin, looking at the challenges and opportunities to #MoveTheDate, moderated the discussion to explore real opportunities to accelerate practical action to lock in a sustainable and inclusive economic path before the world's leaders arrive in Glasgow for the COP26 global climate summit in 2021. Watch event recording
Día del Sobregiro Lanzamiento
July 24, 2020 at 6:00 PM ECT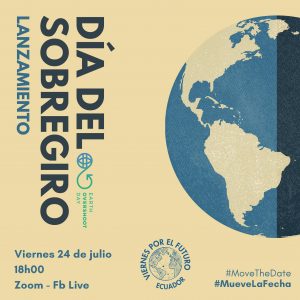 ¿Sabías que?
Para el 22 de agosto habremos consumido todos nuestros recursos de este año !!
Únete a la ola de cambio y #MueveLaFecha.
A traves del seminario conocerás de qué trata y cómo nuestras acciones pueden
#MoverLaFecha.